Does this sound like you… you know about Instagram, you may have even set up an account, but you cannot figure out how the heck to use it for your business. It seems like a lot it's all about posting selfies and the great meals people are having at cool restaurants. Where does business come into play? How do you get more visibility on Instagram?
If that sounds familiar, you're not alone. In this post I'll share some tips on how you can optimize your Instagram account to create more visibility, awareness, and opportunities for your business.

First, you should know that I love Instagram. I love scrolling through the stream and discovering gorgeous photos of landscapes I'd like to visit, food and restaurants I want to experience, art I covet, and motivational quotes that inspire me. In fact, I have tried several new restaurants in Los Angeles after following their posts, and I recently bought a print from a street artist I follow, after I saw his work featured in a pop-up gallery. 
Recently, I asked my blog subscribers to let me know what kind of challenges they were facing with their social marketing. One of the replies I received was from a friend and client who is a fine art consultant. She said,
I have an Instagram page now, and sometimes its fun, but I have a hard time seeing if it will ever reap any benefits.
Her question set off a sequence of emails, a dinner date and then several hours of one on one consulting to help her and her assistant start strategically using Instagram for her business. What follows is a peek at a few of the suggestions and advice I shared with my friend. 
TIP: Substitute your business for "art consultant." Even if your business isn't inherently visual, you can still benefit from using Instagram.
My initial response was: 
Since your business is visual (remember, she's an art consultant with lots of art in her studio to show clients), you have a great opportunity to use Instagram to get attention for your work. It will take some research to get started. 
Make a list of all the interior designers, hotels, art galleries, artists, journalists whose attention you want to get.
If they're on Instagram follow them.
When they post something you like, like it and comment (that gets you on their radar and often they'll follow you back)
Make a list of the hashtags interior designers are using on their IG posts (her primary clients are interior designers).
Take pictures of all your projects and post them (at least once a day) using the hashtags designers are using plus tag the project and artists
Connect your IG account to the Facebook profile and when you post on IG, share to FB so you leverage your time and get the posts on both platforms. 
This is the easiest thing you can do and I'll bet your assistant could do a lot of the research and posting for you. You'll start getting more followers of the type you want. It's a long play, like all marketing is, but you will start making new connections and you'll be showing your work in a format most designers can relate to. You'll also be extending your reach, not limiting yourself to local clients. 
After our first email exchange, Francie Kelley and I set up a meeting to go into more depth about optimizing her Instagram profile and how to use it.
We started by tweaking the bio, changing the URL to her website, and then discussed who to follow, what to post, and the best hashtags for her to use.  
Your Instagram Profile
I don't have a screenshot of Paragone Gallery's profile before we started, and it wasn't bad. But, it didn't include an important keyword – art consultant – or the type of projects that are their specialty.  Now it does. And, we changed the URL from the website home page to the Gallery's portfolio page in order to give visitors a better experience of what the Gallery provides.


Bio Tip:
you can use emojis in your bio, if you want. Be aware that your bio can include up to 150 characters so you may need to work on a draft a bit before you come up with the perfect bio. And, it's not written in stone, so you can edit it if and when you need to. Emojis can be effective to help tell your story and each one equals just one character.
URL Tip: the URL on your bio is the ONLY place you can have an active, clickable link. Make sure you send your followers to an appropriate page to get more info about you, to an opt-in for your newsletter or lead magnet, or to your product or book. 
Who to Follow on Instagram
As you can see from the first item on the list above, you want to follow people who are important to your business.  Start with the easy people: your clients, employees, vendors, friends, and family. Next, make a list of the people you want to know: prospects, influential people in your industry, journalists who write about your industry, for example. 
You could visit their websites to find a link to their Instagram profile and follow from there. Or, you can use the search tool on Instagram to find their profile, if it exists.
In the case of Paragone Gallery, I recommended she start following interior designers since they are a primary source of her projects. 
Laurie Laizure is the founder of the Interior Design Community, one of the most active and largest on Instagram. That's the first profile, I suggested Francie should follow.
Here's why: once Francie is following the IDC, then their posts will show up in her feed. From there, Francie can like, comment and share the images she loves. This will help get her on the radar of more interior designers who may, at some point, follow Francie and eventually may see a piece of art they want to show to a client.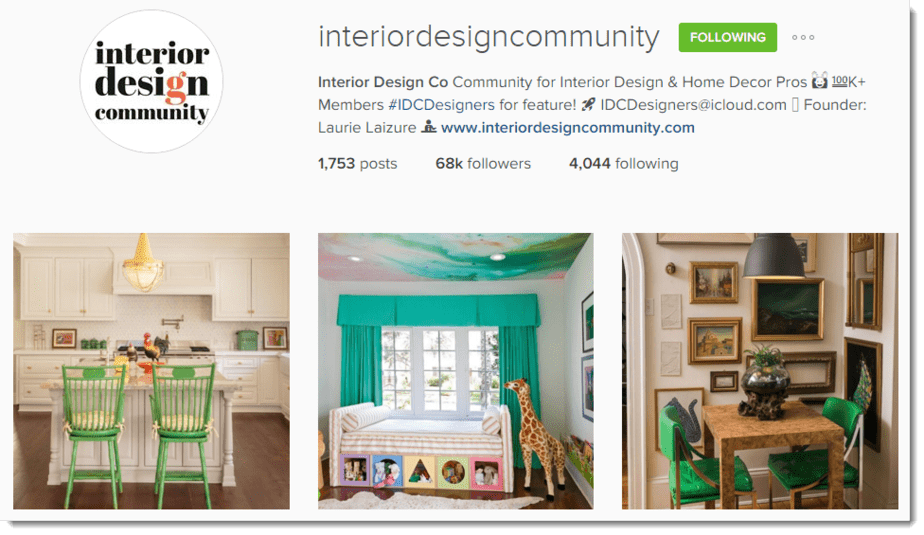 Discovery of new people is one of the joys of using Instagram. Once you're following the people you know and want to meet, then start exploring the people who are commenting on the image you also like. I guarantee you'll find a lot of new people to follow and you never know where new connections will lead.  
What Are the Best Images to Post on Instagram?
Sorry, there is no "right" answer to this question. First, you want to look at why you're using Instagram and for the purposes of this post, I'm going to assume it's for your business. In the case of Paragone Gallery, it makes perfect sense for them to post images from their projects: installations of the art they have placed, the architecture and locations of their projects, and work by their artists. 
Occasionally, it's a good idea to share your personality, too. Who are you and what do you do outside of your work? Francie loves nature and is an avid hiker so those are wonderful types of images to post. She also has a gallery cat who makes an appearance from time to time.
Keiko
also has her on Instagram profile!
Tip:
images with faces are very popular as well. Throw in a selfie once in awhile to connect on a deeper level with your followers. More info about posting selfies in this article on
Jenn's Trends
. 
Tag Your Images
Along with a description of your image, use hashtags that will help people find your posts. Hashtags are used to organize content. While you can use up to 30 hashtags on each post, I recommend you use fewer. Everyone has a different opinion on how many hashtags are optimal. My suggestion is to test to find out what kind of response you get.  I've found when I use 10-15, I get a lot more engagement than when I use just a few. Your results will depend on the hashtags you use and the audience you want to attract.
Start by making a list of as many keywords you know that relate to you expertise and the types of images your post. For Paragone Gallery, I suggested a few that she could start with:
#losangeles #interiordesign (top tag) #designer #instadesign #hotel #artwork #art #interiors #furnituredesign #furniture #luxe #homedesign #hoteldesign #architechture #artcollection #artconsultant (not a frequently used tag)
Think about your projects, products, books, clients, location when creating your hashtag list.
I created lists for the different types of images I post: adventure travel, motivational quotes, food, social media and visibility tips. For each type of post, I also created a notebook in Evernote so I can easily access the hashtags and copy/paste them on my posts from my laptop or smartphone.
#inspiration #motivation #motivationalquotes #inspirationalquotes #dailymotivation #mymotivation #quote #instaquote #dailyquote #lifequote #quoteoftheday #entrepreneur #smallbusiness
Tip:
if you're stumped by what hashtags to use, check out the profiles of some of the high-profile accounts in your industry. Click on some of their images that are similar to the type of content you're posting. What hashtags are they using? Do they make sense for you too? If so, add them to your list.
Learn more about hashtags here
.
There you have it – a behind-the-scenes peek at a consult I did with Paragone Gallery on how to use Instagram for their business. We covered a lot more, and every business is different, so when you apply some of these tips to your business, you'll need to adapt your strategy and tactics. If you need a guide,
let's talk
.  😎