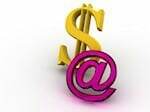 Hot on the heels of the four part series on list builiding, this guest post by Sarah Arrow seemed appropriate to feauture. Sarah posted a comment in one of the list building articles and mentioned a WordPress plugin she had been using to quickly build a list on her blog. I checked out the plugin, WP Subscribers, and was impressed with the depth of options. It's now on my list to get and test.
Then, Sarah submitted this guest post, reviewing several pop-up list builiding plugins and I decided immediately that you could benefit from this information. Now before you get crazy on me, I know that pop-ups are controversial, and they work, so read with an open mind, check out the different options and then decide. Some of the plugins can be used in multiple ways and you do not have to implement the pop-up option.
Zero to Email List in 10 Days
If you are just starting out blogging or waking up to the the power of having an email list then this post is for you. Back in the summer I realised that my personal blog was growing fast and I actually needed to have an email list to support my blogging and maintain relations with my readers.
I did a little research and decided that as blogging is a business – it costs me time and effect to create useful blog posts. I needed to grow my email list with more than a half-hearted effort. I decided that I would use a pop-up to capture the data as I had read that they were the most effective list building tools. I know not everyone likes them and some people are Pop-Up blind and just automatically close them but they still work, so I'd give them a try. At the very least I'd have enough research and testing to be able to write blog post about them.
For the purposes of comparison I only used the basic options of each form, the minimum requirement. All of the list gathering tools have extensive customisation options and can be completely customised to fit the look of your blog or website. All except Aweber require an external email list management software to store the email addresses that you gather.
The killer question: which email Pop-Up system works the best?
I used Aweber's lightbox to start with.
The Look –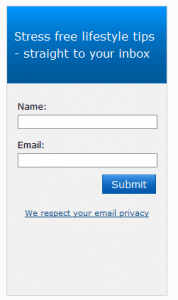 Aweber – email list building service with multiple web form options.
Cost – $19 as part of using Aweber to build your list.
Technical skills needed – The ability to customise your web form settings and the ability to add HTML to the right part of your theme. Suitable for beginners.
Sites supported: Any site that you can add a snippet of Javascript to.
Support: Not used but ample videos and tutorials available.
In a week this captured 19 email addresses.
I have to admit that if this was a coaching client getting these results I would have been pleased. But it was for me and I wanted better results. Okay, as we are being honest here I'll share with you – I wanted more and I wanted the email addresses faster.
Created and marketed by Michael Dunlop (a fellow Brit) this plugin was next on my list. I had read great things about Pop-Up Domination in forums and was quite excited by the thought of trying it out.
The Look –

How Pop-Up Domination is described on their site
WordPress Plugin & Stand Alone Version
7 Beautiful themes with 15 Colour Options
Works with ALL mailing list providers
Works with all caching software
Select specific pages for PopUp to appear
Exit PopUp functionality
PopUp after a certain number of impressions
Cost: at the time of purchasing it was approx $47 for a one site, personal license.
Technical skills: I grabbed a copy. Clickbank doesn't like me and didn't make it easy for me to download. I also didn't like that VAT (sales tax) was added after, I thought I was purchasing at one price point and it turned out to be a higher price point.
I installed it with ease and activated the plugin. I adjusted the settings so the Pop-Up showed after 30 seconds and I tweaked the settings, I did not play around with any CSS, I used the standard look, added the Aweber list code and unleashed it upon my readers. Suitable for beginners to intermediate.
Sites supported: WordPress
Support: Videos and support system, still awaiting a reply from support ticket submitted in May 2011
In a week this captured another 30 email addresses, still a good result.
I read a review of WP Subscribers and thought hmm, might be worth a try. So I purchased a copy, again it was from Clickbank and I jumped through the multiple hoops required of me to download the plugin. Jenni R the creator is based in Japan.
The Look –

How WP Subscribers is described on their site
Add An Optin Form with a "lightbox" (a popup with the background darkened, so that all your visitor sees is your Optin Offer, so they either have to subscribe or dismiss your form in order to see the page underneath…)
Have a Footer Bar or Header Bar Opt-In Form — especially if you want to attract the visitor's attention, but not hit them with an "in your face" popup requiring them to take action
Display hidden content: Rarely seen outside of expensive WordPress membership software, but you can have it — get your visitors salivating to see more, and show it to them after they've opted in.
Subscribe on commenting: Get the ideal subscribers — those folks already commenting on your blog … this makes it super simple for them to do — all they have to do is click a checkbox…
Subscribe on registration: Not something most blogs offer, but if you offer user registration, why not make it so it adds them to your email list (the one of your choosing, of course!)
Put a "Subscribe" Box In All Your Posts: Hey, a sweet, quiet, simple request for them to signup to your email list to get more … you just gave them great content, show them how to keep getting more…
Put a "Subscribe" Box In Particular Posts…(shhhh…remember the "Get The Rest Of This" from the Optin statistics above? He split a great post into two, kept the first half in the post and the second half in a pdf. The visitor had to opt-in to the subscribe form in the post to get the second half.)
Create a "Cascade" of Exit Popups…under precise "fighter pilot" control…each popup with its own content, each sending the user to a unique URL…and you can add the "cascade" to all your pages or any of your pages…you choose…!
Put Your "Subscribe" Form anywhere you want on your WordPress blog…
Cost: Approximate price at time of purchase $97
Technical Skills: Uploading caused a small hiccup. The standard WordPress site has a limited upload of 2mbs. This is ample for a normal plugin upload. I needed to raise the upload limit to have WP Subscribers installed via the WordPress dashboard. Once installed I nearly cried. At first glance it can be overwhelming but there are plenty of videos showing you how to customise the the opt-in forms and after 45 minutes I had an opt-in pop-up and an under content box showing under each post. Suitable for beginner to intermediate.
Sites supported: WordPress
Support: Lots of video tutorials and Jenni the creator is very responsive to potential problems. An issue that was nothing to do with the plugin was resolved by Jenni in 30 minutes – support above and beyond what is promised.
On the first day I had 30 new email addresses. In ten days my list was 250 emails.
It converted it's socks off and I am not using WP Subscribers full functionality, I am using just a fraction.
A gentle pop up for those that don't really like them. I don't know why I wanted to have Pippity, I find the ability to control when the Pop Up appears intriguing. Pippity is created by the team behind the Headway theme.
The Look –

How Pippity is described on their site
Create your first popup in 5 minutes
Choose from 12 designs (+6 popup bars)
Easily customize images, fonts, colors and overlay to craft the perfect popup for your site
See your popup in real-time as you edit
Quickly add product images
Easily add bulleted lists
Cost: $49 for one site at time of purchase, this is for a one year subscription.
Technical Skills: More fiddly than I thought it would be but otherwise suitable for a beginner. Possibly the easiest Pop-Up to customise, no CSS needed. With the exception of Aweber, the Pippity email form is the easiest to create.
Sites supported: WordPress
Support: Again plenty of video. I emailed a question in and 2 weeks later I am still awaiting a response. Have to confess to being a bit disappointed about that.
In 3 weeks 21 new subscribers.
Conclusion: Which Pop Up Works best?
If you wish to build your email list fast, WP Subscribers is the tool to do it. The majority of my list has been built using this highly converting Pop-Up. Zero to 250 subscribers in 10 days.
If you have never used a Pop-Up before then Pippity is a good starting point, it is gentle and it does work. If Pop-Ups have never bothered you and you want list building on steroids, the WP subscribers is the way to go.
If you have read this and don't have a WordPress site, the Aweber lightbox is the tool for you to build your email list.

About the Author:
Sarah Arrow is the co-author of the soon to be published Zero to Blogger and director of a Same Day Courier company which beat the first economic down-turn through creative blogging.
Now it's your turn: Do you use pop-ups on your blog to build your email list? Why or why not?