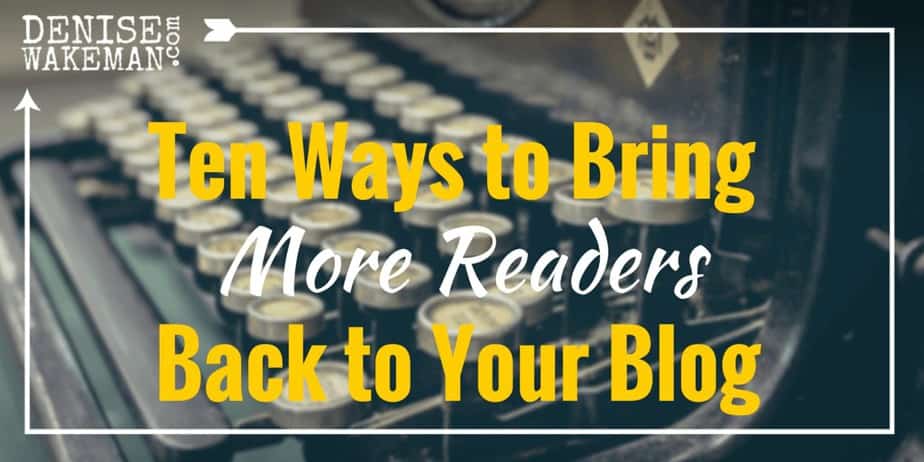 Bringing in new readers is an integral part of blog marketing: It's not enough to create awesome content – You need to spread the word for more people to discover your site.
However attracting new readers is not enough: You need to bring your current readers back too. In our era of information overload, no matter how awesome you are, your readers are most likely to forget about your blog unless you keep reminding them that you exist.
Your existing readership is what powers up your blog: Repeat users are more likely to interact (because they already know you) by sharing your articles and leaving comments. Therefore, you must never let your readers forget about you!
Here are 10 ways I am keeping with my readers in touch:
Always Look for More Ways to Build up Your Email List
Building up your list is the most efficient way to keep in touch with your readers: For example, you can auto-distribute your articles to that list driving them back to your site again and again.
We've talked about generating leads a lot but it's never enough. The thing is, there's no single recipe for how to generate more subscribers: It all comes down to lots of experimenting, tweaking, and creative brainstorming.
Here are few ingenious ways to experiment with to gain more subscribers:
1. Build up your list using your email signature.
People who are emailing back and forth with you are very much used to hearing from you. They become perfect subscribers who'll feel more like interacting with your emails.
Besides, emailing is the least monetized effort: For example, I send replies to about 50 emails a day (responding to pitches, giving free advice, helping people connect, etc). None of that effort is in any way marketed (The only benefit is building my connections). So why not try to get more out of that since I am already spending my time emailing daily. I use WiseStamp to create those calls-to-action in my signature.

2. Set up a giveaway
A giveaway is another absolutely awesome way to generate some new subscribers: Who doesn't love free staff?
If you don't have a product of your own to give away, partner with some brand (There's a monetization opportunity out there too!)
Tomoson is one of the most legit and valuable sites when it comes to finding brands to partner with on giveaways and list building. Just search it for [giveaway] and then filter by category: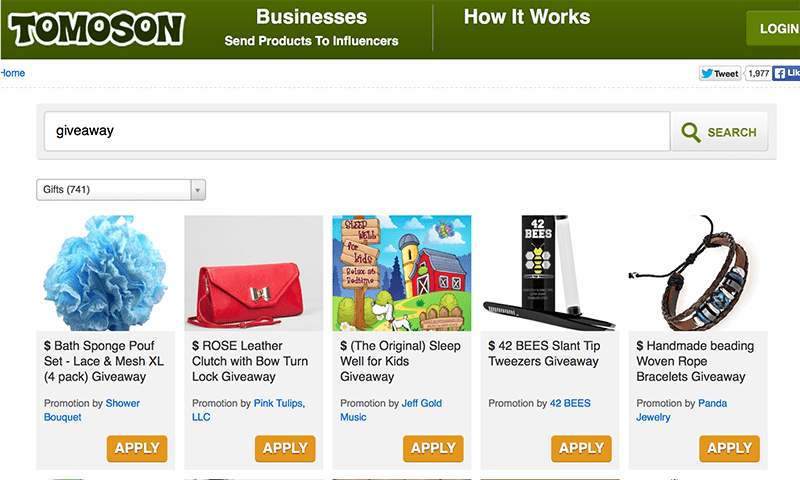 3. Host free webinars.
This is one of the most efficient ways to build up leads. Apart from building great content, developing informative webinars is an excellent way to keep your audience coming back. You can deliver value by sharing your expertise through live and recorded webinars with ClickWebinar, which provides a venue for online video conferences and webinars across any platform.
Webinars let people register (so they can opt in to hearing more from you when registering). Plus people who come to your webinar get to know you well, so they are more likely to recognize your emails and react positively to all of them. Hosting a webinar is one of the most effective site monetization methods too. So you can build up your list and make money as well once you get a bit comfortable with the process.
4. Use Leadshare.
The free service by Slideshare lets you overlay your slides with a lead generation form. I love the fact that it's so well integrated: The forms are preserved when the Slideshare content is embedded (so you can basically bring those forms whenever you cover the topic again), when you add that Slideshare to your Linkedin account, when you add that Slideshare presentation to your long-form Linkedin article…
Bringing your form into Slideshare is a great way to cater for more marketing channels and generate leads from outside of your blog.

This article offers a few more tips: 5 Little Lead Generation Experiments You Can Run Right Now
Optimize Your Blog Comments (WordPress)
With all the different comment management options out there, I still prefer WordPress built-in functionality. The reasons are plenty… To name just a couple of more important ones:
I like owning and hosting that content (For example, Disqus works great for notifying people of new replies, but with the new dashboard, you don't really need to go to the actual article as you can like and reply to comments from any page where Disqus is running comments. It looks a bit like traffic stealing to me).
I love the flexibility the multitude of WordPress plugins are offering me.
Speaking of WordPress plugins… Here are those two that help me build my blog community:
5. Give your commenters the option to opt in: I am using GetResponse because they have a great WordPress integration but I guess other email platforms have their solutions as well
6. Notify your commenters of newer comments: I use this simple plugin to send an email to every previous participant in the discussion notifying of newer comments. It's an old one, but it's still working for me! There seems to be a newer version, but I haven't tried it.
Further reading: 9 Ways to Encourage People to Comment on your Blog
Use Social Media Hashtags, Content & Tagging
It takes just a few minutes of your time to make your article more shareable and let your readers bring other people (back) in (through the use of hashtags and social media tagging). Here are the 4 tips that worked well for me:
7. Let your readers tweet quotes from your page.
This works especially well when you do an expert group interview: Let your readers tweet any participating expert's quote and tag that expert in the tweet: That will bring that person back!
Here's a good example of what I am talking about: Notice if you click any "Tweet this" box, the resulting tweet will have a person who said that already tagged in the tweet:

Here are some tools and plugins to help you create those tweetable quotes within your content.
8. Use embedded content.
Embedded content is highly engaging: It adds social media proof to your content and lets more readers spread the word. You can't overdo with it (not to slow your page down) but it may often be a good idea to engage more readers. For example, you may embed a Google Plus update and ask your readers to tag their friends if they think they might be interested in contributing.
I also find that Sitegeek.com does an awesome job engaging users into tweeting their opinions on the listed hosting company and then using those tweets as reviews:

9. Tag most important people when adding a project in Viral Content Buzz
Viral Content Buzz is the free platform allowing you to bring your content in front of social media influencers.
Sometimes, when I post an interview with an influencer for example, I'll add their Twitter handle in the title or "retweet me" box and thus this person will be tagged in every Tweet VCB users create. This will prompt that influencer come back to my article again and again (to participate in the discussion or promote it again!)
Here's the project:

Here are the resulting tweets tagging the interviewee:

10. Add the most relevant hashtag in the title of the article.
The thing is, in most cases, the page title is what gets tweeted, so if I use my hashtag there, the hashtag will make it to the tweet as well. I am using this trick for our Twitter chats for example: I use the official hashtag in the title of the article promoting the Twitter chat, so each tweet gets into the room where it has more chances to get retweeted. This results in more engagement and more repeat visits!

How do you bring your readers back to your site? Please share your tips in the comments!