Facebook, Twitter, LinkedIn, Ning, Foursquare, Flickr, Amazon….on every social networking site you join, and most ecommerce sites now, you have the opportunity to add a profile and links to your other social sites, blog and website.
The limitation of these profiles is that they are inextricably linked to the specific social networking site. That has given rise to numerous sites that will aggregate your social info and create a unique social profile page for you. A few of them include (these are links to my bios so you can see how they look):
As you know, I'm an active experimenter so I try most that cross my virtual path.
When you click on each of the links above, you'll see you have the option to post your bio, a photo and various links to your social networking profiles. All offer a free version and most offer an upgrade for a small fee.
You can customize the colors, the fonts and often add a custom background.

What's cool about these sites is that you can use them as a one stop shop to send people to get all your contact info. I'm currently using Itsmyurls.com and have a unique domain redirecting to the page: http://denisewakeman.info. I've put that URL on my business cards and on my Twitter profile which solves the problem of listing every site where you would like folks to connect with you.
I also like Itsmyurls.com because a QR code is included so people with a bar code reader on their smart phone can easily get all my contact info as well (go ahead and try it!).
A recent addtion to the scene is Socialbios.com. What caught my eye with this site is that they make it super easy to embed your bio on your Facebook page with an app as well as on your blog. They take your bio a step further by giving visitors the option to find out out mutual connections on the popular social networking sites.
That brings me back to the initial question: how many social profiles do you need?
One could say that you should set up a profile on every site that comes along (I generally do) because it protects your name, makes you findable on that specific site and adds to your online visibility with links back to your home base (blog) and key outposts. Remember, your ideal client hangs out where they are most comfortable and it may not be on the one site you decided to post your bio.
Having a template that you can use to quickly copy and paste your bio info into each site helps projects like this be more efficient.
Then, decide on the format you prefer and choose one to promote, like I've done with my profile on Itsmyurls.com.
What do you think? How many social profiles do you have set up? Do you promote a social profile so prospects can get all your contact info in one place?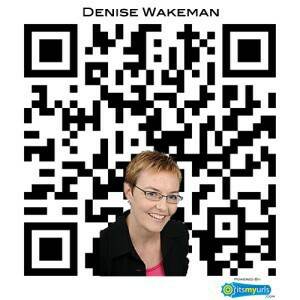 Update: A few minutes after this post was published I was contacted by the folks over at Itsmyurls.com and they kindly offered to customize my QR Code (that's not why I said nice things about them, but it's a nice way for them to acknowledge that they appreciated it – take note how you treat your customers!) Isn't this QR code cool with my name and picture?