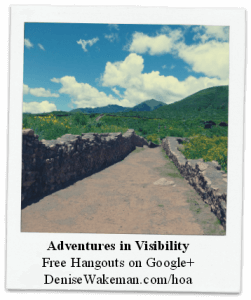 Ta da! Introducing the first Adventures in Visibility live hangout…
In this Hangout, I experimented with the screen sharing tool to demonstrate a simple way to promote your events on Pinterest, and the one mistake you do not want to make with your images. There were also questions about using Google+ Hangouts which I answered in the second half of the video.
Sites mentioned:
What tips and topics would you like to see covered in future Adventures in Visibility Hangouts? Post them in the comments below. Thanks!