Over lunch during a recent workshop, I was chatting with a woman about her business. She was despondent about her lack of success and why it seemed so difficult to attract clients, despite her experience. It felt like she was on the verge of giving up on her business dream because she was struggling to make a go of it.
Every business has its ups and downs. Before I could offer any words of encouragement or suggestions, I asked what she was doing currently to get the word out about her business.  She looked at me and after a few seconds of silence said, "Nothing. I don't know what to do."
I cry inside when I hear a response like that. There's so much information about marketing online and offline, I have to ask, "What's stopping you?"
Much is available for free. There are workshops (we were at a business development workshop); there are low-cost courses; there are ebooks and videos and podcasts and membership sites. The list goes on and on.
There's so much information, that may be the problem…you don't know what to do or where to start. So, if you feel like my colleague, you do nothing. And, unfortunately, nothing gets nothing.
Do something. Do anything.
Your Content Plan
Lunch with my colleague was brief and I didn't have a lot of time to go through the five steps listed above. What I did share with her was a quick way to create a list of 50 topics for her blog so at the very least she could be creating doorways to her business via her content and search.
The excerpt embedded below is from an article I wrote in 2011. It's still relevant today.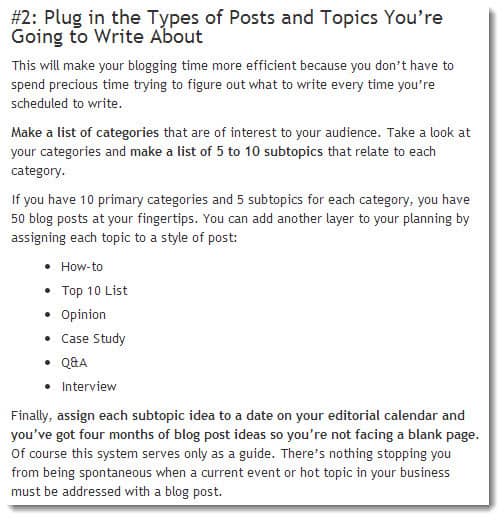 Another way to look at what's outlined above is with a mindmap. Below is an example of mapping out five subtopics for one primary topic. 

Go through this process for ten topics related to your business and expertise and you've got a content plan for 50 blog posts.
Better done than perfect
Whether you own a small business, run a non-profit or are a solo entrepreneur, doing nothing is not an option if you want to keep your dream alive.  What's stopping you from acting on your business dream?
Need help with your plan? Let's talk.