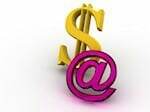 Are you building your list of blog subscribers? No doubt you've heard that list building is a critical strategy for building your business. And there are many tactics you can employ to grow your list.
Back in the olden days of the Internet (I got started in 1996!), your list meant your database of subscribers to your electronic newsletter (ezine). Now, there are many kinds of lists that comprise your business universe: your customer list, ezine list, special reports lists, twitter followers (yes, that's a list of people in your world), Facebook friends, Facebook "likers" (fans), LinkedIn connections, YouTube channel subscribers and of course your blog subscribers.
I think many bloggers neglect their readers. They offer an RSS feed on their blog but don't offer an email subscribe option. Did you know that most blog readers still prefer email over RSS? I do. And I consider myself to be a tech savvy, sophisticated blog reader. I realized a while back that though I subscribe to blogs with Google Reader, the blogs for which I receive email updates are the ones I read the most consistently.
In just about every presentation or teleseminar or blog review I do, I talk about the fact you must have an email subscribe option on your blog. Otherwise you're neglecting a lot of people who may want to stay on top of what you're writing.
There are several options for offering an email subscribe option. I use Feedblitz (fee) and have since it was launched in 2005. There's also Feedburner (free) and Aweber (fee), the autoresponder service, offers an RSS to email option for blogs.
How do you get readers to subscribe?
Like building an ezine list, it helps to offer an "ethical" bribe – a gift in exchange for subscribing to your blog. For example, when you subscribe to Build A Better Blog, or any of my blogs, you get a gift. Sometimes it's access to a teleseminar recording or a transcript of a program I normally sell.
Feedblitz makes this really easy to do. They have an option to create an automated message that goes to your new subscriber as soon as they confirm their subscription. In that message you can provide a link to a page where they can download their gift. You can also set up the subscribe system to redirect to a download page as soon as they confirm. I recommend doing both as a way of ensuring they get their gift.
I also like Feedblitz because I can fully customize the template for the email my readers receive with their updates so it's branded with my blog banner and other information or marketing messages.
You can set up a similar process with Aweber through their autoresponder function.
However, Feedburner is not quite as sophisticated. You can set up for notifications to pull your logo into the email, and you could add a link to a download page in the confirmation email that subscribers get before they actually confirm. I couldn't find any way to redirect to a special page or send a follow up email.
Where there's a will, there's a way. With so many sites and so much content competing for your readers' attention, anything you can do to show appreciation for their subscription will help. You want readers to subscribe because those subscribers are the ones who will return time after time to read your words of wisdom. They are the ones who build a deeper, more intimate connection with you. They are also the ones who drive more traffic to your blog by "liking" and sharing your content. A little reward can go a long way.
Are you rewarding your blog subscribers? If so, what is your system or process? What do you give your readers when they subscribe? Please share your tips in the comments!
Want to learn more about how to build a big, responsive list? Join me at the Irresistible List Building Summit – Version 2.0. I'll be speaking in this virtual event so be sure and catch my exclusive interview:

Harness the Power of Your Blog: How to Easily Generate More Leads Every Day

There are 17 more top heart-based marketing experts in the summit, including Robert Allen, Maria Andros, Lisa Sasevich, Kendall Summerhawk, Christian Mickelson, Christine Kloser, Adam Urbanski, Milana Leshinsky, Vrinda Normand and more…