Do not go where the path may lead, go instead where there is no path and leave a trail. ― Ralph Waldo Emerson
I've been thinking a lot about transformation…how my business has evolved over the last year and where I want it to go in in the future.
I'm curious to know how you're thinking about the next year in your business. Do you anticipate growth and transformation?
Do you know where you want to take your business?
Or, do you feel overwhelmed and confused about what you need to do to get better results?
Transformation can be intentional or it can be accidental. The problem with the latter is that you may end up reacting to events, rather than creating exactly what you want. I've experienced both and I prefer to set my direction. Things always turn out better, more in alignment with what I want to experience and the impact I want to make with my work.
Where do you stand?
Do you make it happen or let it happen to you?
Here's a bit of my story about how I got to this point, today.
My business had been stalled for a couple of years. I was doing OK, but there was no growth and I was feeling stuck. While I love the work I do with clients and adore the amazing entrepreneurs who seek my help to boost their online presence, it felt like I was treading water.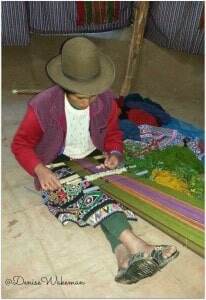 Then, after my second trip to Peru, it hit me. I had an idea, vague at first, about what I wanted to do to transform my business into one that was in better alignment with who I am, my passions, and my values.
It hit me…The common threads in my personal and business life needed to be woven together.
I realized my adventurous offline self could be and in fact was, adventurous online too.  My delight in exploring the physical world has its counterpart in my incessant active experimentation online with new strategies, tactics and tools. They co-exist.

The question then becomes: how do I create an intentional transformation of my business?
Transforming my business is not going to happen overnight. It's a work in progress as I maneuver down an unfamiliar path. My intention is to transform my business into one that holds a space for clients to experience adventure and experimentation while building a sustainable online business.
There is a risk when you go off the beaten path.  And there is a little bit of fear (what if it doesn't work?), yet the thrill of discovery and creating a new trail is intoxicating.
You may be wondering by now what this transformation looks like.
First, the work I do with clients and my passion for helping entrepreneurs build their online presence and business has not changed at all. I love facilitating and witnessing the transformation my clients make.
Right now, the evolution is more in how I'm showing up and playing in the world. I'm shedding a lot of the formality I have used in the past to protect my privacy.   It is liberating and at the same time a challenge for the introvert in me. 
I am also working on some ideas for integrating travel and strategic business planning… Adventures in Business!
This is a big one for me. I have been a traveler since childhood. More and more I realize how every adventure has brought me to this place in my business. My choices led to experiences that have led me to this moment where I have an opportunity to blend two sides of my self. And, my adventures deeply inform my beliefs and desires to learn from and connect with entrepreneurs on a global level.  Even my philanthropic interests reflect my global perspective.
I believe embracing a mindset of adventure and experimentation in business and life, opens doors to opportunities. 

Circling back to intention vs. accident, when I traveled to Peru, both times for personal adventure, I accidentally found the transformation I wanted for my business. 
Once known, it cannot be unknown. Fortunately, I recognized the opportunity and I am working with a business coach so I can fully realize this exciting new venture. Out of accident evolves intention and now I am creating the path I want to take and share with you.
There is a sweet spot where experience, expertise, and passion intersect. That is the point where the magic happens and that is where I want to take you if you want to work in your sweet spot too. Most importantly, your sweet spot is where all strategy and tactics should originate to ensure congruence with your message and work.
Side note: blogging experts (me included) always advise you to write about your readers, how to solve their problems and make their lives better. While that is true, sometimes it's necessary for the author (me, you) to pull back the curtain and share what's going on behind the scenes.  This can be just as instructive as how-to and educational content.  
What do you think? Does this revelation help you see the possibilities in your business? Does it help you better understand where I'm coming from and where I"m going?
There are some gaps in this post, like the specifics of my lifetime of adventures that helped me get here.  I'll share those with you in a later post…stay tuned…
Right now, what I want you to do is spend a few minutes reflecting on your business. Is it evolving by intention or by accident and is it going the way you want?