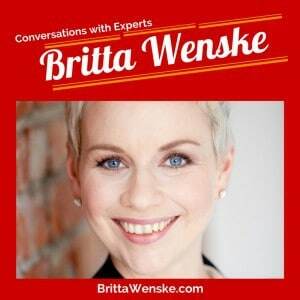 In this episode of
Conversations with Experts
, I welcome
Britta Wenske
 of Speak Up Now. Britta's passion is to help you
take your public speaking skills from adequate to amazing – on stage, on camera and beyond! 
Does this sound familiar? You are delivering your presentation and somehow you cannot seem to captivate your audience. People seem bored and uninspired. You leave the stage feeling you have not made your point. That's what we address in this Conversation… how to turn that around.
Britta and I discuss:
The skills you need to present like a TEDx speaker 
The most common mistakes public speakers make 
The three pillars of delivering a speech that people remember
How to deal with stage fright
Two key points to watch for in the video… at minute 19:25 Britta shares how she prepares for a talk, and at 26:45 she demonstrates how she warms up… not to be missed!
Get Britta's gift:  Delivering your speech: The 5 essential strategies that help you go from adequate to amazing – on stage, on camera and beyond.
Britta Wenske is a public speaking and dialogue coach, and the owner of speakupnow!, a Germany-based institute that specializes in public speaking. Her past and present clients include international companies such as MontBlanc, Warner Brothers, Lufthansa, Nordea, Meiko and Chanel as well as national companies. Britta  is a TEDx-Coach, helping TEDx-Speakers to deliver the talk of their life. 
Britta and her team have helped hundreds of entrepreneurs, teams and leaders to find their speakers personality and to deliver their message in a powerful and inspiring way.
Connect with Britta
http://brittawenske.com 
http://twitter.com/BrittaWenske  
http://de.linkedin.com/in/brittawenske/en
https://www.youtube.com/user/brittacanada/ 
https://plus.google.com/117170256114297023461/posts
https://www.facebook.com/BrittaBri
Prefer audio? Listen to the Conversation on Soundcloud or download to your mp3 player:
What do you do to prepare for a speaking gig? Any tips or tricks you use to ground yourself? Please share!