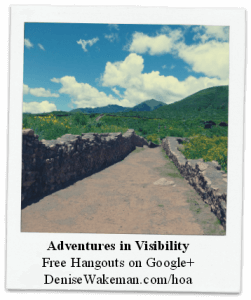 In this episode of Adventures in Visibility, I take on two notification bar tools: Hellobar and the Foobar plugin for WordPress.
You'll also witness me in all my experimental glory as I was distracted by my own voice coming in to my headset with a 10 second delay. At the moment, I couldn't figure out how to turn off the audio so I carried on. A strange experience. And, that's why I call these Hangouts "experiments" and "adventures" in learning how to use visibility tools. I'm learning right along with you.
Back to notification bars: Hellobar vs Foobar
As I discuss in the video, I've used Hellobar and I currently use Foobar. Both are excellent tools to use on your site to build visibility:
Display time-sensitive notices

Invite readers to opt in to your list
Invite visitors to follow you on social media
Promote specific blog posts
Promote your products and services
Promote a your new book and/or a virtual book tour
Promote a sale
Promote webinars, teleseminars, Hangouts and other events
and more…
The possibilities for the notification bars are only limited by your imagination.
If you are using a notification bar or dive in to try one of these two tools, feel free to post a link to your site in the comments below so I can check out how you're using it.
To get reminders about when Adventures are scheduled and when replays are posted, you can get on the list and/or follow me on Google+. Be sure to let me know you want to be added to my Adventures in Visibility Circle so you get the invitation directly through Google+.